A FAVOURABLE NOD FROM KIRKUS REVIEWS FOR LIORNABELLA!
"While the magic builds slowly, this fantasy series opener possesses a grand allure."
Super pleased to receive a great review from Kirkus for Liornabella. Read the full review here:
https://www.kirkusreviews.com/book-reviews/e-outerbridge/liornabella-1-viridian-chronicles/
Even happier still to be included in the December 15/20 edition of Kirkus Magazine.
https://d1fd687oe6a92y.cloudfront.net/files/Kirkus_Reviews_121520_Best_of_3_Online.pdf
THE REVIEWS ARE STARTING TO COME IN FOR MOROSA! 
"Morosa" is the second book in "The Viridian Chronicles" that takes us right back into the literary world of author a.e. outerbridge, and what a crazy, fantastical, marvelous world it is! It is so imaginative pulls no punches in drawing from almost every available fantasy-literary element available. This is a rare novel that I thought had several intriguing concepts that feel comfortably familiar to the genre, but also weaves a complex tale of action and relationships that make it feel like a whole new experience – This book builds on the events from the first one, so read that one first ("Liornabella"). Outerbridge quickly refreshes us some in the beginning, but it only makes sense if you know what happened with Elle and the others before. She has special powers and a budding relationship with Elan and there are some new arrivals who appear to shake things up too…great descriptive world- building with suspense as the story progresses. The threat of Lockheart gives Elle an unsurmountable obstacle and the the Zen Cup is an incredible challenge in itself – and not everyone will survive. With magical/supernatural elements, danger… romance… it's hard not to find something you like. There are dark twists throughout, and nothing is predictable or what you think will happen. Kept me turning the pages late into the night! One thing I'll say is that I like how these characters grow and change throughout and we keep seeing sides of them we hadn't before. The ending really gets you and so I really hope book #3 isn't too far off!  (5 stars) Nikki Turnage – Indie Book Reviewers: Senior Reviewer
_____________________
In the second novel of the Viridian Chronicles, Elle O'Sullivan continues her education in magic and martial skills at the University of Caillagh, in Morosa. As she prepares to compete for the Zenithal Cup, Elle is eager to develop her supernatural physical abilities, whose origins are still shrouded in mystery. But her studies are plagued by scheming vampires, strange visions of the past, and competitors from other schools, some of whom are hiding magical powers of their own.
Outerbridge has crafted an enjoyable world in the Viridian Isles. It is a place that dances along a tightrope of easy definitions. Its geography and culture resemble that of the British Isles, but its political structure – altered by the machinations of vampires and the counter-efforts of wizard-kings – is something unique. Likewise, Ellie and her companions are a mixture of magical students such as you might find in Lev Grossman's The Magicians, and the witty heroes you might find in the Marvel Universe. There was a lightness and camaraderie in among them which I feel has been lacking in recent fantasy, and spending time with them was like stepping outside and feeling the warmth of the sun on your face…" Thomas Macolino, Pacific Book Review
Reviews of Liornabella:
Creative and well-written, "Liornabella" by author A.E. Outerbridge is the first book I've read by this author but it certainly won't be the last! This world she creates here is impressively conceived, and I was pleased with the level of character development throughout – and there are lots of them (living and not…)! But so frequently in books they are the same from beginning to end… not here!! Elle is the main characters, and she is such a great heroine and role model – no damsel in distress, but smart, strong, and resourceful. The plots are complex and intelligent, yet quirky enough to keep you hooked. There are several big reveals that continue to shift the dynamic of the storyline in unexpected ways, something that even a jaded reader like myself can fully appreciate and still be shocked by. This is great because nothing I hate more than predictable clichés, especially in this genre. I would also like to commend the level of professionalism in this novel, from the cool cover, to the formatting, to the editing and the overall execution– all top notch. Cody Brighton, Indie Book Reviewers. March 2018
~~~~
Fantastic! Wow what an awesome ending! Actually, the whole thing was pretty great, but I don't think I put my e-reader down once after the 70% mark. This is an impressive effort from author A.E. Outerbridge, and it is quite clear that she is an author we can expect great things from. While I do feel the pacing needed tightening at times, there is the spark of something wonderfully inventive here (rare for this genre!) and the writing felt as natural as it did effortless. You can't fake or even teach that, in my opinion. A.E. Outerbridge has found her literary voice, and I could totally see this being a movie or miniseries (or it should be!) It's not too long (finished in just a few nights) but is packed with so much 'story' that it has that "epic feel to it which I love. You really get lost on this bizarre, yet realistic world for a long time and don't really want to leave! Or at least you want to know what will happen with everyone now, especially Elle. A fun read that will appeal to fans of many genres, as it encompasses so many different aspects of literature, not just fantasy or horror/supernatural mystery. Definitely recommend. (5 stars) Steffie Coleman – Indie Book Reviewers. March 2018
Pacific Book Review Star!!
Awarded to Books of Excellent Merit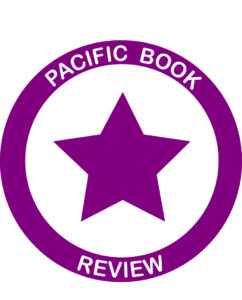 Author A.E. Outerbridge has written a smart and enchanting fantasy novel titled Liornabella: Book One of the Viridian Chronicles, which is a sweeping adventure guaranteed to transport readers to a magical place and time. Lionabella is the story of Elle O'Sullivan, a teenager who is admitted to Eidolon University, one of the most prestigious schools in the Viridian Isles. While studying, she comes across diaries from an ancient princess, Sinead. As she delves more into Sinead's history, she embarks on an adventure into the dark Castle of Liornabella, where she encounters creatures which changes her life forever.
Liornabella is an exciting novel with a strong female protagonist. Elle is a fearless young woman who has the strength to stand up to bullies in school such as fellow student Ashana, plus mythical monsters in the woods of the Viridian Isles. Ashana is a formidable antagonist to Elle and is the ultimate villainous mean girl. Although she is haunted by the taunts of other students, Elle fights against self-doubt to become a dedicated student. She survives the twists and turns of school with the help of her dedicated friend Naomi and entrusted school guide Wiggins. Naomi and Wiggins provide much-needed support to Elle as she adjusts to life at a new university. In a refreshing change from male protagonists, Elle is a female character in a fantasy novel, getting to take action and have breathtaking escapades. In addition to the compelling story, the settings of the university and the Viridian Isles are pivotal parts of the novel. The sloping hills and majestic mountains of the Viridian Isles and the foreboding ruins of an old castle provide an excellent backdrop for this imaginative storyline. Readers will easily transport themselves into many rugged settings similar to what one might find in the Old English countryside. A.E. Outerbridge has a distinct flair as she creates beautiful landscapes and memorable characters with her vivid descriptions.
Liornabella would be best for readers who love the mystical magic of Harry Potter, yet want more girl power with their fantasy novels. The book would also be perfect for young adult readers who want to read more adventure novels that have scary moments, but aren't graphically violent. The novel would also be ideal to liven up junior high and high school literature courses as well. As the series progresses, there should be ample material for the creation of a block-buster movie!
Liornabella is a captivating novel that makes Outerbridge a worthy successor to J.K. Rowling. With the thrilling story of Book One of the Viridian Chronicles, readers will morph into becoming dedicated fans, as they await with bated breath for the rest of the books in the Viridian Chronicles.
Find more reviews on a.e.outerbridge's goodreads author page: