What's New
Liornabella Reviews
Pacific Book Review Star!!
Awarded to Books of Excellent Merit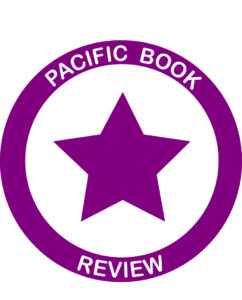 Author A.E. Outerbridge has written a smart and enchanting fantasy novel titled Liornabella: Book One of the Viridian Chronicles, which is a sweeping adventure guaranteed to transport readers to a magical place and time. Lionabella is the story of Elle O'Sullivan, a teenager who is admitted to Eidolon University, one of the most prestigious schools in the Viridian Isles. While studying, she comes across diaries from an ancient princess, Sinead. As she delves more into Sinead's history, she embarks on an adventure into the dark Castle of Liornabella, where she encounters creatures which changes her life forever.
Liornabella is an exciting novel with a strong female protagonist. Elle is a fearless young woman who has the strength to stand up to bullies in school such as fellow student Ashana, plus mythical monsters in the woods of the Viridian Isles. Ashana is a formidable antagonist to Elle and is the ultimate villainous mean girl. Although she is haunted by the taunts of other students, Elle fights against self-doubt to become a dedicated student. She survives the twists and turns of school with the help of her dedicated friend Naomi and entrusted school guide Wiggins. Naomi and Wiggins provide much-needed support to Elle as she adjusts to life at a new university. In a refreshing change from male protagonists, Elle is a female character in a fantasy novel, getting to take action and have breathtaking escapades. In addition to the compelling story, the settings of the university and the Viridian Isles are pivotal parts of the novel. The sloping hills and majestic mountains of the Viridian Isles and the foreboding ruins of an old castle provide an excellent backdrop for this imaginative storyline. Readers will easily transport themselves into many rugged settings similar to what one might find in the Old English countryside. A.E. Outerbridge has a distinct flair as she creates beautiful landscapes and memorable characters with her vivid descriptions.
Liornabella would be best for readers who love the mystical magic of Harry Potter, yet want more girl power with their fantasy novels. The book would also be perfect for young adult readers who want to read more adventure novels that have scary moments, but aren't graphically violent. The novel would also be ideal to liven up junior high and high school literature courses as well. As the series progresses, there should be ample material for the creation of a block-buster movie!
Liornabella is a captivating novel that makes Outerbridge a worthy successor to J.K. Rowling. With the thrilling story of Book One of the Viridian Chronicles, readers will morph into becoming dedicated fans, as they await with bated breath for the rest of the books in the Viridian Chronicles.
Liornabella has all the ingredients of a wonderful young adult novel: friendship, love, mystery and a hook at the end that leaves the reader anticipating the sequel. Uniquely set in the 19th century, Liornabella effectively juxtaposes past with present.  The character dialogue is modern – full of wit, flippancy and sarcasm – which will appeal to young readers. The story is based around friendship. Elle's friendships with Martine and Naomi are charming, honest and easy going but have the strong undercurrent of deep bonds. A reader's curiosity is piqued when even smaller characters are given depth and weight – in anticipation of more to come in the Viridian Chronicles!
Life at Eidolon has the challenging social dynamics of relationships that will resonate with adolescents. And, as Elle navigates her way through the dark and intriguing mystery of Liornabella's past, she does so with bravery, humour and friendship.
N. Watt
Speaker, improviser, writer
This is a brilliant debut novel!  Elle's story is exciting and spellbinding and, as the story's hero, Elle is easy to fall for. She is athletic, smart and funny.  Her quick wit and warmth make you cheer for her right from the start. The pace of the story is perfect and the regular flashes back into the dark history of Liornabella leave you on the edge of your seat, breathless for the next chapter in the story of the vampire queen.  As Elle races to complete her arduous tasks as part of the Quintile Cup, she is pursued by a past she has yet to fully uncover and a family secret that threatens her life. With the help of her loyal group of young friends Elle conquers her fears, defies the odds and triumphs. The story continues in Book 2 of the Viridian Chronicles – I can't wait!
K.L. Russell
PR Consultant, MLIS. PR Cert.